One of my symptoms of Hypothyroidism is dry skin. It is a vicious circle…I get itchy, scratch, get terrible red marks, and then it gets itchy again. I can't tell you how many times that has happened in the middle of the night. I wake up with red scratch marks all over my legs. I am always looking for that moisturizer that is both long-lasting and not too messy. When I saw the commercial for Vaseline's new spray moisturizer, I got excited. This could be the answer I was looking for. So I went to the store to check it out. There are 3 formulas: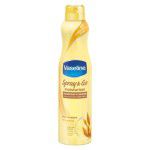 Total Moisture: infused with pure oat extract
Cocoa Radiant: infused with cocoa butter
Aloe Fresh: infused with pure aloe
I chose the Cocoa Radiant. . I was rather surprised that the price tag was over $8, but I splurged anyway.
The instructions on the can are:
Hold 4 inches away from skin and spray over arms, legs, and body in a continuous motion
Quickly rub into skin and go!
I tried it on my arms as soon as I got home. I loved the scent right off the bat. It smells a lot like suntan lotion. I was expecting more of a fine mist. This is how it looked…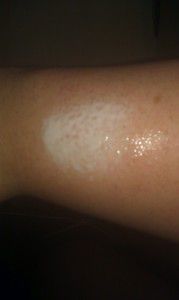 You technically cannot "Spray & Go" as you have to rub it in, but I didn't have to rub as much as normal lotion. It was instantly absorbed into my skin. It felt smooth, and yet it didn't seem to last very long.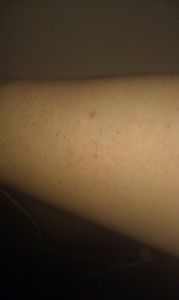 Also, it gets tricky after you have done a place or two since your hands will make the bottle slippery. I will definitely finish the bottle, but if you are looking for a long-lasting feel, this is not it. Also, for the size of the bottle it can be pretty pricey. And really, since you still have to rub it in, how is it much different than regular lotion?
I think if you have normal or slightly dry skin, or are looking for a light-weight moisturizer, this would be great. I can see it being convenient for summer as well. As for me, I am still on the lookout for that wonderful long-lasting moisturizer. Have you tried this? What did you think?  What is your favorite moisturizer?
Erin ♥