Notice
: Undefined variable: logostr in
/home/erindipity/public_html/wp-content/plugins/seo-nutrition-and-print-for-recipes-by-edamam/edamam.php
on line
1448
About six months ago I started educating myself about the "stuff" that is in processed foods.  Mainly, high fructose corn syrup.  I am not going to get into why it is bad for you. What I will say that with hypothyroidism, it is best to stay away from it as much as you can.  I can't say I have cut it out of my diet 100%, but I have started making more food from scratch to limit the amount we consume.
 When I started checking food labels in the grocery store, I was surprised to find that a lot of foods have it listed as one of the first five ingredients.  I was really surprised when I picked up my favorite pasta sauce and it was the first ingredient!  Since then, I have searched for a great tasting, easy marinara to make.  I have an awesome sausage sauce, but that is time-consuming so I usually make a giant batch around Christmas and freeze it.  I really needed a quick, easy marinara sauce to have in my recipe binder.
I found a recipe here that looked good.  And I had everything I needed on hand – Yay!!!  I have seen a lot of marinara's that have wine in it.  Not sure if I want to go that route yet.  The simpler, the better to me!
I got out my saucepan and heated up my olive oil.  Then  I added the garlic (I use Spice World Squeezable Minced Garlic).  I cooked until golden.  Then I added my crushed tomatoes, oregano, salt, pepper,bay leaf, and a dash of sugar (I was always told to add one so I did). I covered it and let it work it's magic.  Once it simmered for 20 minutes, I added basil (I used dried even though it said fresh).
Here is the result!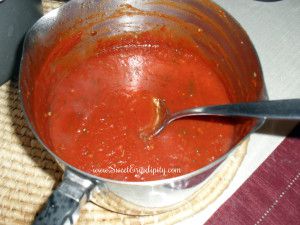 All in all, a delicious, easy marinara that is good for pasta, appetizers, anything!
What is your favorite go-to recipe for marinara?
Erin ♥
Quick & Easy Marinara Sauce
Per Serving 53 calories
Fat 1 g
Carbs 11 g
Protein 2 g
Ingredients
1 tsp olive oil
2 cloves garlic, smashed
28 oz can crushed tomatoes
1 small bay leaf
1 tsp oregano
2 tbsp chopped fresh basil
salt and fresh pepper to taste
Instructions
In a medium pot, heat olive oil over medium heat. Add garlic and saute until golden, being careful not to burn.
Add crushed tomatoes, salt, pepper, oregano, and bay leaf.
Stir and reduce heat to low.
Cover and let simmer about 15 - 20 minutes.
Remove from heat and add fresh basil.