I love parties. Any party. Direct sales parties, baby showers, bridal showers, birthday parties, anniversaries – all of them. I have never met a party I didn't like. And I love to get creative with my gifts. So I thought the best way to start this journey was to post about some gifts I have done for people. This post is for the towel cake I did for my friends Mike & Monique. I wanted to do something different for their bridal shower and this took the cake! It was definitely the hit of the shower, and are elegant AND useful. Here it is…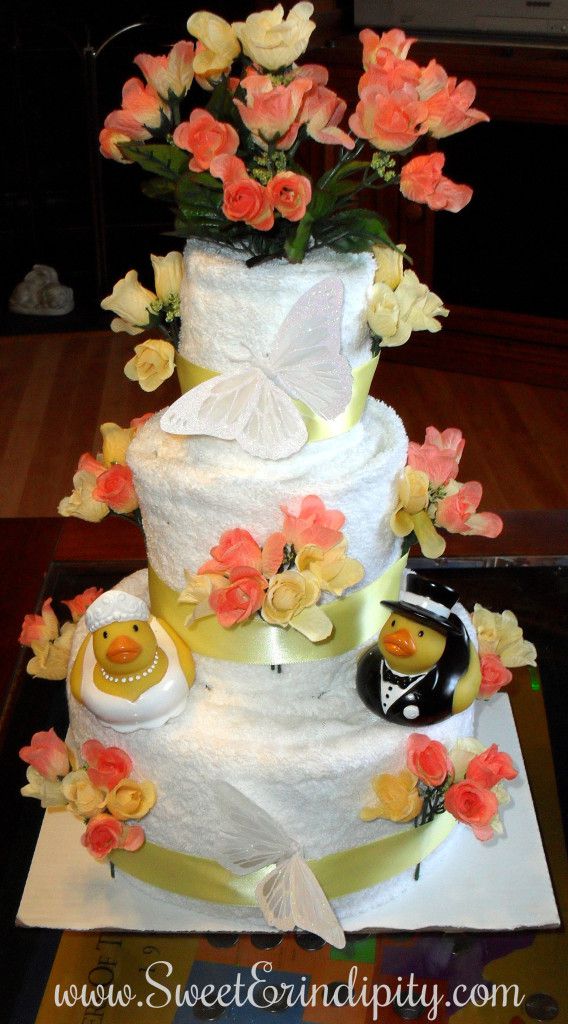 It was actually pretty easy to make.  I will be doing a tutorial in the near future.  You can customize these cakes to any theme at all.  I fell in love with those quirky rubber duckies I saw in Michaels and designed the cake around it. The cake was huge – I would say it was 2 ½ feet tall. It was funny…as my friend and I walked in to the restaurant where the shower was held, someone thought I was bringing in a real cake !
What is the most creative gift you have given/received for a bridal shower?
Erin ♥