Notice
: Undefined variable: logostr in
/home/erindipity/public_html/wp-content/plugins/seo-nutrition-and-print-for-recipes-by-edamam/edamam.php
on line
1448
I love strawberries. And I LOVE cheesecake. So when I saw the recipes on Pinterest for them, I thought, "Wow, that looks sooo good!"
I know there are a lot of different recipes for these out there, so I went and did it my own way, which was quick and easy.
First, I got out my strawberry huller. I have this one which makes the job fast.  Wash and hull the strawberries.
Then, I got this premade cheesecake mixture from Philadelphia Cream Cheese brand.  Put some of the cheesecake mix into a piping bag (I used these by Wilton).  Pipe enough in to have a little coming out of the top.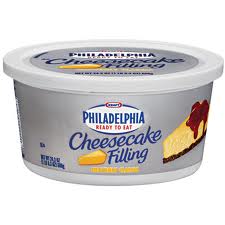 Then roll the top in graham cracker crumbs.  Refrigerate until serving.  That's it – easy, right?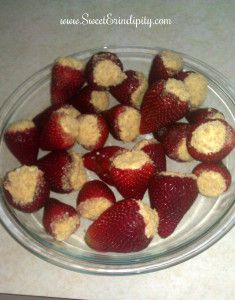 You can also drizzle some chocolate over them as well for added sophistication.
Have you tried these?  What tips do you have for making these?
Erin ♥
Cheesecake Stuffed Strawberries
Per Serving 155 calories
Fat 2 g
Carbs 36 g
Protein 3 g
Ingredients
2 pounds strawberries
Philadelphia Cream Cheese Cheesecake filling
graham cracker crumbs
Instructions
Wash and hull the strawberries
Put some cheesecake mixture into a piping bag.
Pipe into strawberries, filling until a little over the top
Roll cheesecake showing out of strawberry in the graham cracker crumbs
Refrigerate until serving