This is Butters. She is 5 years old today.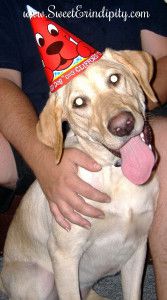 She is definitely the princess of the family. In August 2008, Jay and I were driving to a furniture store in Brick, NJ to look at a recliner sofa for our movie room. As we were driving, Jay said "Puppies!" signifying we were about to pass a puppy store. On a whim, I pulled in and said, "Let's just look". As I browsed the different puppies, I came across a cute yellow dog with super long legs. She was so cute. Then I looked at the tag on the glass. She was born May 5. I said, "We have to look at her – she was born on my birthday!" The puppy attendant brought her to the small enclosed area and let us play with her. She was so cute. She was tripping over her long legs and playing with toys and shoelaces. I fell in love, but tried not to get too attached. They come over to us and told us how much she was, and my heart dropped. Way too much for us. I said "That is too much for us. Here." And tried to give her back. They said "Let me see what I can do". You see, she was a 3-month-old puppy in a store. They wanted to get her into a good home quickly. They dropped the price twice more before I gave in. I just knew this puppy and I were meant to be together.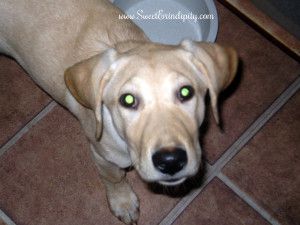 The funny thing is we had her name before we had her. Since we have a black lab named Bear, we were pondering names for other color labs one night. Since we were both watching South Park quite a bit during that time period (our save the dates were even customized South Park characters), I said "What about Butters for a yellow lab". It was perfect.
At first, Bear was not so sure about this leggy blonde that had suddenly crashed into his life, but he warmed up to her.
Butters has some quirks herself. She coos at the back door when she has to go out. When she scratches her back on the floor, her right paws have to touch. She has to eat her treats on carpet. She groans when she is tired and people won't let her sleep. She loves to play with all her toys, and gets quite annoyed when we put them away for her. Interesting puppies we have. Of course, none of these quirks have pictures to show them, so here are a few cute pics of the birthday girl when she was little.
And yes, she will be having some pup-cakes too!!!  Happy Birthday Butter Butt!