Today is Bear's birthday. This is Bear.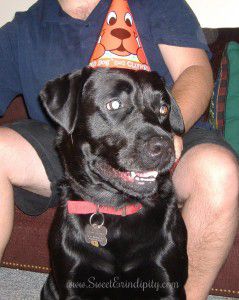 He is a black Labrador Retriever with a big heart. He was born in Ohio. This pic is my favorite picture of him from when he was a puppy.
I first met Bear November 2006, when he was 2. My new boyfriend (now husband) joked with me that if Bear didn't like me, our relationship wouldn't work out. Luckily Bear and I hit it off right away. He is definitely one of the most interesting dogs I have ever met. Here are some examples of his quirky personality.
He taught himself to beg up on his tail. When he does this he looks so cute so he gets lots of treats. He figured that out really fast.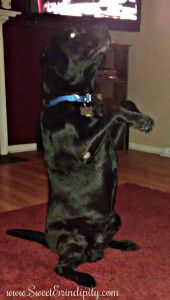 He taught himself to sit in a chair at the dinner table like a regular person. Don't worry; his chair would sit far back enough so he wasn't drooling on the table.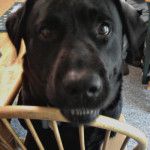 He is only now learning to play tug. You see, he doesn't really bite down, so toys would just to fall out of his mouth. Butters has been teaching him how to play, and he is definitely learning quickly.
He lays on our loveseat oddly. He straddles it and lies across the top.  Bizarre, I know. He just lounges this way…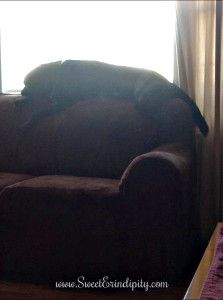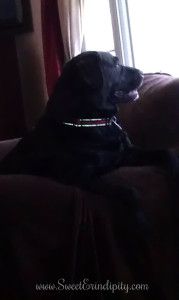 Or even sometimes like this.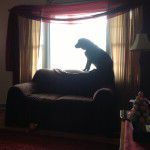 He says "Good Night" to us every night. He comes up the middle of the bed and gives me kisses and nuzzles Jay. We say "Good Night Bear" and he goes and lies down. Hmm.
There are a million little things that make this dog interesting. I would be here all day if I wrote them all down. All I know is this dog is very special. Hopefully he likes his birthday surprise. Here is a sneak peek – just don't tell Bear! (Recipe will be posted later this week!)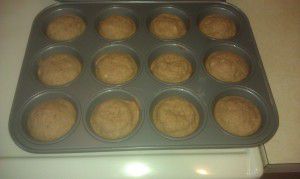 Am I crazy for writing a post about my dog? Maybe. Will there be another doggy post on Butters' birthday? You betcha! I know I am not the only one who loves their pups.
Do you celebrate your pet's birthday?  How do you make their day special?
Have a great day…I know Bear will!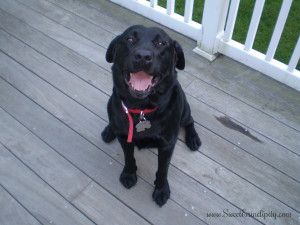 Erin ♥